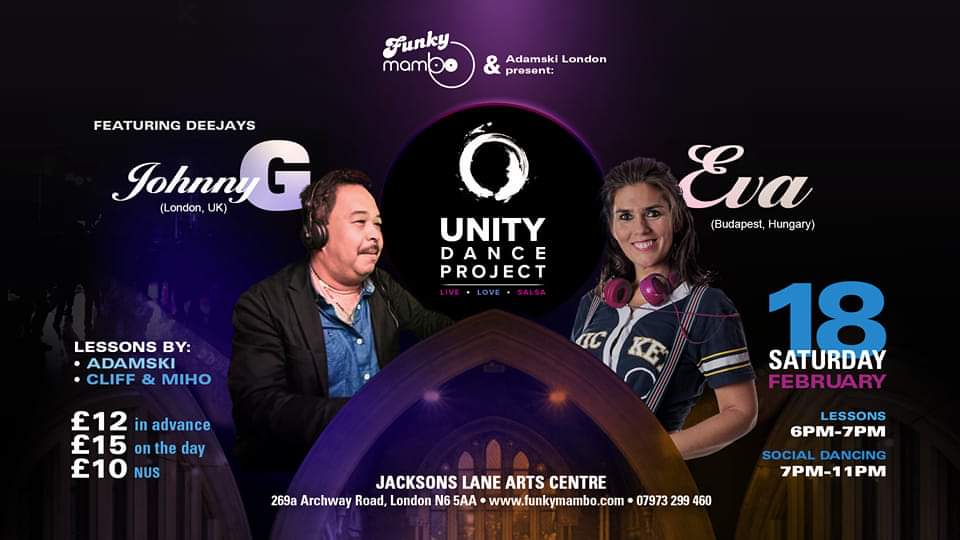 Funky Mambo & Adamski London
presents:
UNITY DANCE PROJECT
ft.  DJ Johñny Gee and Eva
Date: Saturday 22nd April 2023
Time: 18:30-23:00
(CASH ONLY at the door)
Unity Dance Project ☆A Night of Salsa☆ Vol. 8
"Dance is about uniting people"
The Unity Dance Project aims to bring every Mambo dancer together from the UK, Europe, and all around the world! Any Style of dancers are welcome (On1, On2 On3, Cuban, Colombian)
Expect guest teachers and DJ's who are well known around the salsa world,  plus the Unity team Miho Mija Shigematsu, Cliff Joseph & Adamski London.
Schedule
Lessons: 18:00hrs Salsa On2 Lessons,
Party 19:00 till 23:00hrs
ft. Int'l Guest DJ Eva (Budapest)
Venue:
Jackson's LaneArts Centre
Archway, London N6 5AA
(24 hour northern Line at Highgate Tube station)